The American Institute (USA)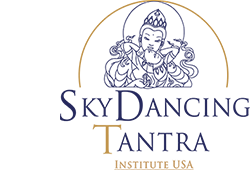 SkyDancing USAPlease send me your newsletter
If you are seeking more meaningful relationships, wish to awaken your authentic spiritual, sexual, and emotional self, SkyDancing Tantra Institute - USA offers many opportunities, whether you're new to Tantra or experienced. In 2007, SkyDancing Tantra - USA formally joined the international network of institutes that people choose, because they trust the ethical integrity of the certified professionals and decades of time-tested practices. Seminar participants, and those interested in becoming Certified SkyDancing teachers, come from all over the world to discover what it means to be a SkyDancer.
Experience the sacred teachings of Margot Anand under the guidance of skilled professionals. Through intimate practices, one discovers the depth of consciousness and life's vital energy. Feel grounded in your authenticity as you expand beyond the body to spirit.
Across the USA, find your tribe and become a part of a growing movement of awakened SkyDancers. Feel the interconnectedness of a community that celebrates the diversity of people in the US, and beyond. Discover how through the act of exploring your true nature, separateness dissolves.
Join us on this wonderful path which, for many, has proven to be a life-changing experience.
The SkyDancing Tantra Institute USA has been offering seminars for more than 20 years. Currently, two of our beloved SkyDancers, Sara and Thomas (SatchiJo) are directors of the Institute and experienced SkyDancing Tantra Teachers.